We are very pleased to announce that we have formed a new and exciting partnership with Supply Chain Cumbria Ltd which was officially launched at the 'Growth Twenty14' Business Exhibition in Barrow on the 28th October 2014.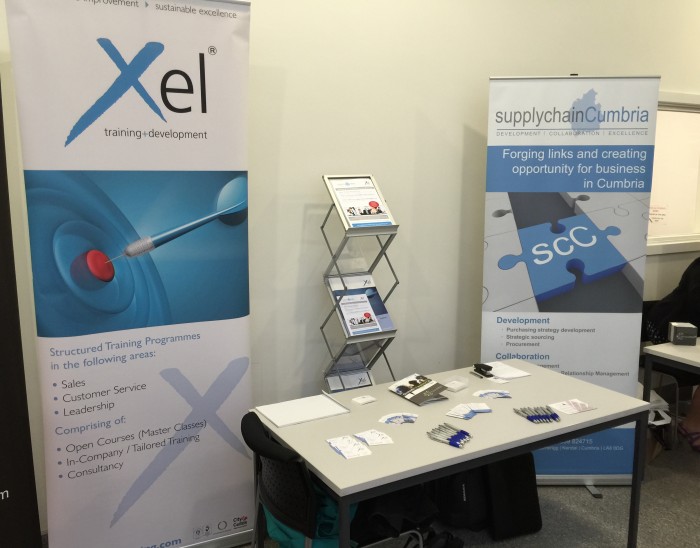 Supply Chain Cumbria (SCC) support their clients in supply chain development (strategy and training) to ensure their clients have the capacity and capability available to maximise very real and compelling growth opportunities throughout the Cumbrian region and beyond.
With significant new investment planned for Cumbria in sectors as diverse as defence, nuclear, energy, pharmaceuticals, mining and packaging, SCC helps its clients to boost productivity and growth through business improvement activities and the development of 'key' skills through training, coaching and mentoring.
Supply Chain Cumbria has particular expertise within business improvement, procurement and supply chain management across a range of business sectors however in order to provide a complete package of services to their clients they recognised the need to partner with a training provider specialising in sales, negotiation, customer service skills and culture change programmes.
Peter Cotterill, one of the founding Directors of Supply Chain Cumbria Ltd commented; "The new partnership between SCC and Xel Training & Development now means that we have a wealth of experience between us in providing clients with the right tools and know-how to address key business issues across a much broader range of topics resulting in:
Improved individual and team effectiveness
Improved staff motivation and retention levels
Increased market share
Increased sales revenue
Improved cost performance and business 'profitability'."
Mike Farnworth the second founding Director of Supply Chain Cumbria Ltd also commented; "The Growth Twenty14 event which was organised by Cumbria Business Growth Hub, is Cumbria's biggest business event, and was held at Furness College in Barrow where there were over 150 exhibitors and a number of mini workshops taking place.
Mike continued…"given our goals and aspirations for businesses throughout Cumbria, we felt that this event was the ideal platform to launch our new partnership with Xel Training and we are therefore looking forward very much to working with Andrew Jones (MD of Xel Training) and his team to help local businesses achieve their own business goals and ambitions."
To give ambitious businesses that are looking for 'growth' and who are interested in exploring what the SCC and Xel partnership can offer and do for them, we are running a series of 'Preview Mornings' in January, February and March 2015 that will give managers and directors an opportunity to 'sample' the latest thinking, tools and techniques that are making a real difference to businesses of all sizes across all industry sectors.
We will present ways to unlock and enhance the skills of your team, with practical techniques, ideas and strategies that you can take away and implement the very next day and that will have an immediate and positive impact on the profitability of your business!
For more information about this event click here or click on the following SCC & Xel Preview Mornings for a PDF showing dates, venue details and how to reserve your place/s.