Creative & Innovative Thinking
Course Description
The 'Creative & Innovative Thinking' Master Class (currently delivered as two, half-day 'live & online' virtual training sessions) is aimed at individuals, groups and teams that have the challenge of how to be constructive and creative, how to solve problems easily and how to foster a creative culture that develops 'new' ideas and opportunities.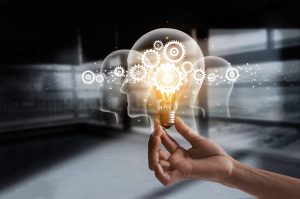 'Serious Creativity' will seem like a contradiction in terms for many people. It is often said that creativity has to be fun, lively and crazy – so how can we have serious creativity?
Delivered by a certified Master Trainer on Edward de Bono thinking systems programmes, the 'Creative & Innovative Thinking' Master Class is aimed at individuals and groups who need to develop an ability to see things in a different way, generate solutions and who are generally looking for improved outcomes. It shows delegates how to be constructive and creative, how to solve problems easily and how to open up new opportunities.
Like any other sales or management skill, 'thinking' is also a skill. The techniques and thinking tools shown on this programme provide a highly practical and alternative system to the traditional argument method. These tools can be learned, practised and developed in the same way as other management skills.
The Master Class will also address lateral thinking which involves disrupting an apparent thinking sequence and arriving at new ideas from another direction. This method of thinking is far more productive than traditional brainstorming approaches and works in a brain-friendly way to help discover fresh ideas, new concepts and different strategies. Using lateral thinking can help us solve old problems in new ways or create completely new approaches to situations – and has been used by all kinds of businesses and organisations to improve their competitive advantage and effectiveness.
Book This Course
Master Class Objectives
Improve output and productivity as a team or individually
Develop the power of creativity on a individual or team basis
Improve new business generation
Improve personal relationships and overcome cultural differences that exist between individuals and departments
Increase the number of 'great ideas' generated during sales and management meetings
Book This Course
Delegates Will Learn
How to collate the facts: what you have, what you need and where to get it
How to develop and use their feelings – intuition and instincts
How to manage caution by identifying and handling dangers and potential problems
How to see the benefits and positive aspects and values of other people's opinions
How to be creative: identify alternatives, options, new concepts and perceptions
How to manage 'parallel thinking', i.e. ensuring everyone in the team does the same kind of thinking at the same time
Book This Course
Book a Course
If you'd like to book this course or require further information please call
+44 (0)1772 611 115
or
+44 (0)20 7100 1331
and speak to one of our course advisors who will be happy to help. Alternatively, fill out the 'book a course' form below and we'll be in touch.