Being one of the most respected training and consultancy organisations in the UK today, we have earned our reputation by providing our customers with the most up to date,
highly practical and cost effective training that money can buy.
We specialise in designing and delivering structured training programmes in three main areas:
Sales
Customer Service
Leadership
When it comes to training, what are your objectives? Consider the following…
Increase: orders, sales, profits and market share
Improve: cashflow, staff performance, motivation and team effectiveness
Reduce: costs, staff turnover, discounts, the risk of selecting the wrong type of training and time off the job when training
Save: time, money associated with training costs that have no training benefits (such as hotel, accommodation and travel)
Gain: new customers, new contacts, fast performance improvement and longer lasting results
Our aim at Xel Training & Development is to ensure that you achieve the above objectives.
Training programmes can comprise of Open or In-Company/Tailored courses (Master Classes) and one to one coaching all aimed at the needs of the individual and your specific business requirements and objectives.
Along with open, in-company/tailored training and coaching, Xel Training & Development provides a portfolio of consultancy and support products and services to assist in the pre-training assessment and post training implementation processes, which are designed to achieve improved performance, sustainable excellence and a much improved return on your training investment than with traditional approaches.
Pre-Training – A suite of pre-training products to help identify an appropriate training and coaching programme for each member of the team.
Post-Training – A suite of post-training products to refresh and reinforce the training and coaching message.
This is not just training… It's the whole educational process!
The model illustrated below shows how we believe successful organisations achieve improved performance and sustainable excellence.
It demonstrates that training people to excel in their chosen profession whether that be in sales, customer service or leadership has changed and has become more scientific and a complete educational process that can be underpinned with nationally recognised qualifications.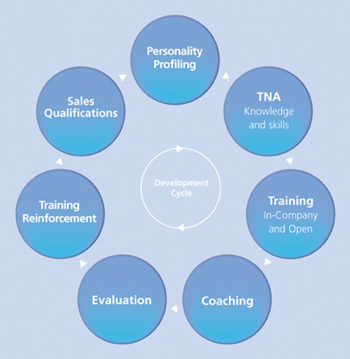 A key part of Xel's overall service is not only providing highly effective training and development programmes for existing members of the team but also to support our customers by ensuring that they have the 'right' people in the 'right' roles through advising on restructuring and/or by providing highly effective recruitment services and consultancy in key areas such as Personality Profiling, Aptitude Testing, Defining Job and People Profiles, Conducting Final Interviews of short listed candidates and Writing Job Descriptions.
Personality Profiling
Identification of behavioural characteristics required for different sales, customers service or management roles (Hunters or Farmers, Leaders or Followers?)
Training Needs Analysis (TNA)
TNA and aptitude testing for identification of training needs and areas for development for a specific role.
Training
Structured training programmes comprising of either Open, In-Company or Tailored courses (Master Classes) all aimed at the needs of the individual and your specific business requirements and objectives.
Coaching
On the job field sales, tele-sales and management coaching to reinforce previous learning and to ensure any classroom based learning is implemented and acted on in the most appropriate and effective way.
Evaluation
The Personal Performance Manager (PPM On-Line™) has been designed for salespeople as a web-based 'self-evaluation' assessment tool and as a coaching tool for sales managers to measure and monitor performance month by month in terms of Activity, Skills and Knowledge against eleven core sales disciplines.
Training Reinforcement
Downloadable Pod Casts, DVD's and other post-training support tools for refreshing and reinforcing the training and coaching message.
Qualifications
A nationally recognised sales, customer service or sales management qualification delivered as part of a structured training and development programme underpinning the whole educational process.
Contact Us
If you've seen anything which interests you, would like to make a course booking or simply need to talk through your requirements with someone, please call
01772 611 115
or
020 7100 1331
and speak to one of our course advisors who will be happy to help. Alternatively, fill out the contact form below and we'll be in touch.
Interested in Improved & Sustainable Business Performance & Growth?
Let's Talk…
If you're interested in booking a Master Class or have any questions or queries then please get in touch! We'd be happy to help!