Training people to excel in their chosen profession

has evolved over recent years. Developing people is like completing a jigsaw puzzle with skills and product training being only part of the picture.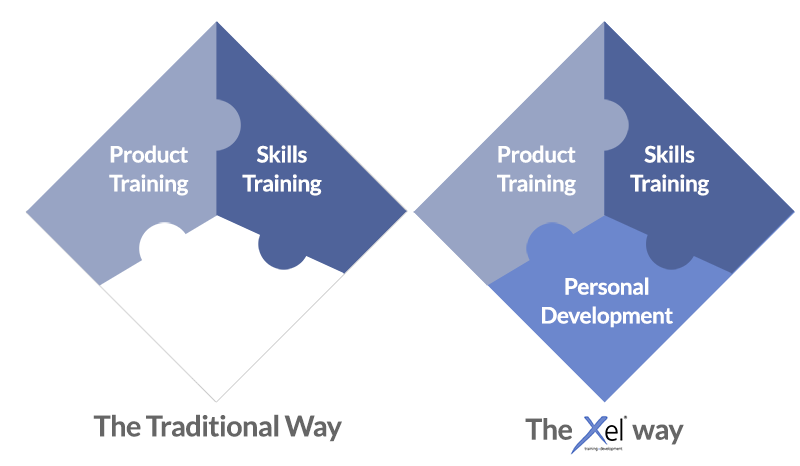 To make people fully effective also requires 'personal development' in key areas such as confidence, attitude and self-motivation. Without this combined approach, the picture is incomplete and the training will never achieve its full potential. Unlike traditional training methods, Xel's integrated range of Master Classes, coaching and consultancy services take a more scientific and structured approach to personal development. Our approach is a complete educational process that can be underpinned with nationally recognised qualifications.
How many of these factors are important to you when selecting a training provider?
Best Return on Investment
Very few businesses buy training on the basis of lowest price. They're looking for performance improvement. They look for the BEST because they want their people to be the BEST. They look for the BEST VALUE FOR MONEY.
Support Products & Services
Post-training products and services to refresh and reinforce the training and coaching message.
Top Priority Subjects
Highly practical training based on proven most successful ways of doing the job.
Fast Results
Customers want to see results from their training investment NOW. We focus on the fastest possible results.
Minimum Time Off the Job
One-day Master Classes that minimise time away from the workplace.
Money Back Guarantee
A full refund if you are not satisfied.
Maximum Feel Good Factor
Prestigious venues, high quality manuals and a framed attendance certificate: our delegates are treated as VIPs.
Venues
Carefully selected, specially designed and equipped training suites provide the ideal learning environment.
Top Flight Trainers
Training without inspiration is rarely effective. Xel offers a highly skilled and experienced team to train and coach delegates throughout the UK.
Sit In and See for Yourself
Get a taster for what we offer. Few training providers offer this. We do.
Tailor Made Training
Customers can book training, tailored to their specific requirements, on a date and in a venue exclusively for their organisation.
Great Ongoing Customer Care
Your Training Director will contact you to check the progress of every delegate and provide ongoing help and advice on future training needs.
Impeccable Track Record
Every delegate assessment form is on file; every testimonial letter received from a customer – all open for inspection.
Quality
ISO9001 and Investors In People: tangible evidence of our total commitment to quality.
Professional Qualifications
City & Guilds and Institute of Leadership & Management qualifications are provided as part of our structured training programmes where required.
Impeccable Track Record
Every delegate assessment form and testimonial letter is kept on file and all are open for inspection.
Contact Us
If you've seen anything which interests you, would like to make a course booking or simply need to talk through your requirements with someone, please call
01772 611 115
or
020 7100 1331
and speak to one of our course advisors who will be happy to help. Alternatively, fill out the contact form below and we'll be in touch.
Interested in Improved & Sustainable Business Performance & Growth?
Let's Talk…
If you're interested in booking a Master Class or have any questions or queries then please get in touch! We'd be happy to help!