Presenting & Selling Online
Course Description
This one-day online/virtual Master Class is aimed at anybody that has a need to conduct online presentations about products, services and any other business-related subject areas to audiences both large and small.
This Master Class is highly relevant for field salespeople, key account managers, technical support staff, sales managers and directors however and is also equally as relevant to any other members of staff that have to conduct online presentations and meetings to both individuals and groups of people about any subject area.
Presenting Online – The 'Now Normal'
On this 'live & online' virtual training Master Class, delegates will learn how to deliver their message effectively and confidently and how to get and keep the audience's attention during the course of any online presentation. Delegates will also learn what makes a great set-up so you can present confidently without fear of interruption, but also so that your audience doesn't have to work too hard to hear or see you.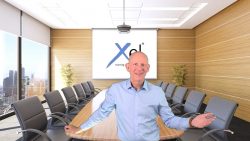 The 'Presenting & Selling Online' Master Class is delivered as two, half-day online/virtual training sessions conducted 4 weeks apart (see dates below). During session one, delegates will learn all about the do's and don'ts of presenting online and how to use video conferencing tools in a more effective way.
During session two, using proven learning techniques and interactive role-play, delegates will have the opportunity to practice the techniques learned on session one and will have the opportunity to hone and polish their new-found 'virtual' presentation skills to a high level of accomplishment.
Click here to read delegate feedback/testimonials from previous Presenting & Selling Online Programmes.
The training is delivered by highly experienced trainers & presenters that have many years' experience delivering high impacting presentation skills training programmes across all industry sectors.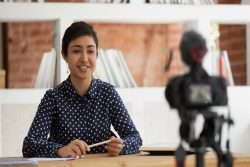 Delegates attending this Master Class also benefit from 'technical' advice & guidance on how to get the best possible visual and sound experience when conducting online meetings/presentations. This is based on the experience of a camera/sound technician gained over many years working within the television industry.
Date Schedule:
Session One – Tuesday 15th June (pm)
Session Two – Tuesday 13th July (pm)
Book This Course
Master Class Objectives
To develop the skill of delivering high impacting online presentations
To structure and deliver an effective and exciting 'virtual' online presentation
To project a message with confidence and charisma when presenting online
To manage an audience effectively in a 'virtual' online world
To understand what makes a great set-up to present confidently without fear of interruption
Book This Course
Delegates Will Learn
What makes online presenting different
How to eliminate distractions
What questions to ask before they start – The first stages of planning & preparation
How to create compelling content for an online presentation
How to develop & construct the main 'ingredients' of the message
How to take control of the direction of the meeting and eliminate excuses of virtual vs live/face-to-face
How to use techniques that motivate the audience to accept the idea/product/service being presented
How to use (and read) body language and the importance of questioning skills when presenting online
How to keep the presentation engaging and impactful
How to interact easily with the audience, the presentation slides (and other visual aids) when presenting online
How to build rapport and develop strong relationships in an online/virtual meeting that rival in-person meetings
How to use the technology/functionality of your video conferencing platform – the use of chat/whiteboard/breakout rooms/etc
Knowing when to take a break
The importance of 'aesthetics' – the way your customer/prospect sees you is how they judge you
Click here to read delegate feedback/testimonials from previous Presenting & Selling Online Programmes.
Click here to read more about Xel's 'Live & Online' – Virtual, Instructor-Led Training (VILT)
Book This Course
Book a Course
If you'd like to book this course or require further information please call
+44 (0)1772 611 115
or
+44 (0)20 7100 1331
and speak to one of our course advisors who will be happy to help. Alternatively, fill out the 'book a course' form below and we'll be in touch.