At the core of our philosophy lies the belief that frequent bursts of highly concentrated skills and product training are

crucial to the attainment of developmental goals and objectives.
In today's fast-moving, ever-changing markets, customer expectations are continually on the rise. Xel Master Classes deliver highly concentrated training in the elements of business that really bring results in today's environment.
Our training topics focus solely on achieving performance improvement and sustainable excellence across the whole organisation.
Traditionally, organisations will send members of their team on one training programme a year – perhaps a three or four day residential course.
Regardless of where you may be on the staff effectiveness graph right now it is highly unlikely that this approach to training will see you maintain improvement and exceed customer expectations.
Even if you select the correct skills training course, because the training has been delivered in one 'hit', the strength of its message, and therefore its effectiveness, will quickly begin to wear off, leaving your organisation almost back at square one.
Developing people to exceed customer expectations is a process, not a one-off event.
Xel offers the perfect solution to this problem. All of our topic-focused Master Classes are ONE-DAY sessions. This means no overnight accommodation costs. You can send your team on three or four Master Classes per year for the same training budget as sending them on one residential course and, therefore, benefit from ongoing training, with each new Master Class boosting the effects of the one before.
Although each Master Class can be attended independently, they also integrate to form a structured training programme that can be delivered at a pace suited to the requirements of your team and your training budget.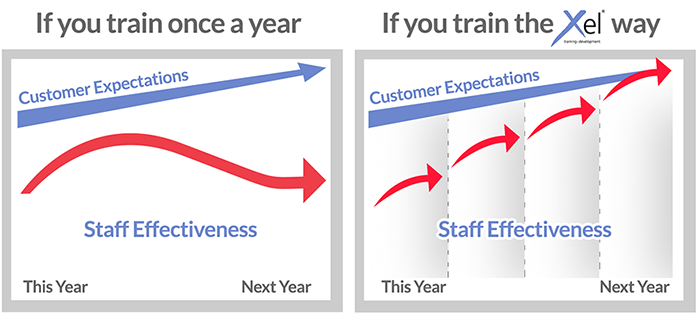 Contact Us
If you've seen anything which interests you, would like to make a course booking or simply need to talk through your requirements with someone, please call
01772 611 115
or
020 7100 1331
and speak to one of our course advisors who will be happy to help. Alternatively, fill out the contact form below and we'll be in touch.
Interested in Improved & Sustainable Business Performance & Growth?
Let's Talk…
If you're interested in booking a Master Class or have any questions or queries then please get in touch! We'd be happy to help!