Specially designed in-company training makes up the largest proportion of Xel Training & Development's total activities.
All Master Classes shown on the course page of the website can be presented for your people only, on a date and at a venue most convenient for you.
Tailored/bespoke programmes can be created by building the programme around your specific needs and objectives, so ensuring the training is 100% relevant to attending delegates.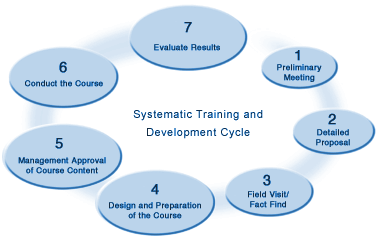 Typically, each tailored training programme has seven key stages:
Preliminary Meeting – Identify and understand company needs and objectives and build a framework to accomplish the agreed goals within a pre-defined time limit.
Detailed Proposal – Designed to demonstrate a thorough understanding of your objectives and detailing an appropriate solution to meet your specific needs.
Field Visit/Fact Find – Conduct field visits and/or on-site research to familiarise ourselves with the culture of your organisation and your business environment, conducting a detailed 'Training Needs Analysis' if required.
Design and preparation of the course – Design and prepare the programme in detail to include all resources and equipment.
Management Approval of Course Content – The content of the programme will be approved by management giving complete peace of mind in knowing that the content is totally relevant to the attending delegates and company objectives.
Conduct the course – The programme will be delivered by a skilled Training Director at the agreed location(s).
Evaluate results – Review sessions – designed to measure the effectiveness of the training received that will clearly demonstrate your Return On Investment and to identify any follow up work required such as personal on the job coaching.
The Key Benefits of In-Company Training:
Content – Tailored exactly to your requirements, so achieving faster and longer lasting results.
Venue – Your choice. This reduces travelling time and costs.
Date – Convenient for your business and your people.
Team Spirit – Working with and supporting each other during the training is highly motivational and great for team work.
Review and Return on Investment – The effectiveness of the training is reviewed and measured and delegates are helped to apply their new skills in the most appropriate way resulting in a much greater return on your overall investment.
View our range of Master Classes that are available on an in-company basis.
If you are interested in knowing more about running a tailored in-company training programme then please call 01772 611115 or 020 7100 1331 and speak to one of our programme advisors. Alternatively, please complete and submit the enquiry form located on the contact us page.
Contact Us
If you've seen anything which interests you, would like to make a course booking or simply need to talk through your requirements with someone, please call
01772 611 115
or
020 7100 1331
and speak to one of our course advisors who will be happy to help. Alternatively, fill out the contact form below and we'll be in touch.
Interested in Improved & Sustainable Business Performance & Growth?
Let's Talk…
If you're interested in booking a Master Class or have any questions or queries then please get in touch! We'd be happy to help!