As organisations transition from home working to hybrid or flexible models, presenting online has fast become the 'now normal' and for many people across a wide spectrum of industry sectors, face-to-face, in-person meetings seem like a distant memory.
Selling, presenting, account management and generally communicating with prospects and customers has changed forever and whilst certain sales & customer service activities will need to be conducted on a face-to-face in-person basis in the future, you definitely cannot count on returning to pre-COVID levels of in-person sales & service coverage.
According to a recent McKinsey & Company survey as few as 15% of B2B buyers want to interact with sales people 'in person' ever again and approximately 88% of B2B decision-makers expect the remote and digital model to stick around for the long term. Therefore, given this massive shift to 'digital', do you and/or your colleagues need to improve the skills necessary to deliver a message effectively and confidently when using video conferencing platforms?
Skilled presenters are always very highly regarded within any organisation however there's a real difference between presenting face-to-face and presenting online. You need to adapt to the fact that your audience isn't in the room. You also can't take the sales presentation you've planned to deliver in a room of prospects, present the exact same thing virtually, and expect it to work just as well.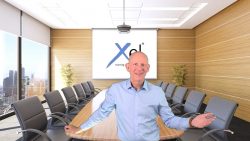 On Xel's Presenting & Selling Online 'live & online' virtual training Master Class, delegates will learn how to deliver their message effectively and confidently and how to get and keep the audience's attention during the course of any online presentation.
As more and more of us are going to continue to work remotely either totally or at least some of the time, ensuring you have the right set up to host online presentations and attend meetings is a must. Delegates on Xel's Presenting & Selling Online 'live & online' virtual training Master Class will therefore also learn what makes a great set-up so you can present confidently without fear of interruption, but also so that your audience doesn't have to work too hard to hear or see you.
Contact Us
If you've seen anything which interests you, would like to make a course booking or simply need to talk through your requirements with someone, please call
01772 611 115
or
020 7100 1331
and speak to one of our course advisors who will be happy to help. Alternatively, fill out the contact form below and we'll be in touch.
Interested in Improved & Sustainable Business Performance & Growth?
Let's Talk…
If you're interested in booking a Master Class or have any questions or queries then please get in touch! We'd be happy to help!